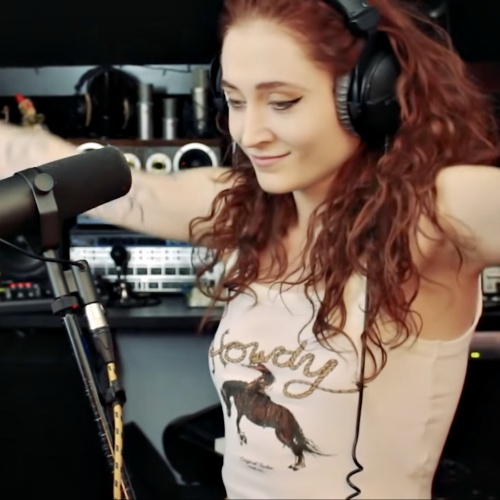 Northern-Irish singer-songwriter Janet Devlin will be performing at her first show in London in four years. The social distanced show is taking place at the St Matthias Church in London on October 2nd, 2020. Pre-sale starts Wednesday 16th September at 10 am, followed by general sale on Friday 18th September at 10 am. Janet will perform with keyboard player Jim Molyneux to a crowd of no more than 100 people, however fans who won't be able to make the concert still have the opportunity to see her perform on September 24th via StageIt. Tickets for this are can be found at janetdevlin.com.
Having spent the majority of this year performing for fans around the world via StageIt, this show will undoubtedly make for an exciting change. The pop star revealed on Twitter that she is "ridiculously excited to announce that I'm doing a real-life SHOW!!" After months of lockdown, and talking to a camera, her excitement is more than understandable.
Janet has had an incredibly busy year, showing no signs of slowing down even with the pandemic looming. She released her highly anticipated album "Confessional" to rave reviews, and her debut book "My Confessional" completely sold out in its first week. The album also reached number 6 on the Indie Charts, number 3 on the Indie Breakers Chart, and cracked the Billboard top 100.
During lockdown Janet also reached her 115th show on StageIt. Janet was an early adopter of the format, and cited with helping popularise streamed gigs, even before Covid19, as she has been identified by the platform as one of their top ten performers in revenue and in number of shows. She's also taken time this year to open up to the world about the struggles she has faced in the years she's been in the public eye; she was on Loose Women where she spoke candidly about her mental health struggles whilst on the X-Factor, as well as sharing with her half a million plus loyal subscribers on YouTube about the issues that she has faced. Her video tackling personal struggles with alcoholism was shared to millions of readers through popular multimedia website Ladbible.
Whilst in lockdown and obeying strict social distancing regulations, Janet filmed the music video for the single "Big Wide World". The idea, born from a concept devised by Janet, was to make a joyful (and, quite literally, moving) homage to Forrest Gump's famous running sequence. "When I was in rehab, I rewatched this particular film numerous times. There was something about this scene that spoke to me. I felt the urge to run – not away from something… but towards something. Directed by Katia Ganfield, the video was no mean feat, being filmed using social distancing techniques and featuring heart-warming vignettes of happy moments submitted by fans all over the world. Other videos Janet has released for this album campaign include, "Away with the Fairies", "Honest Men", "Holy Water" and "Saint Of The Sinners" – which was premiered on 1883 and jumpstarted the album campaign.
Furthermore, Janet's helped to raise thousands of pounds for Nordoff Robbins performing at 'The Takeover Festival', while navigating a hectic filming schedule for her YouTube channel, and creating content for her fast-growing Tik Tok account, which she started while in lockdown and now has over half a million followers and over 7 million likes. Her videos include hilariously relatable rants about the strange people on the internet, many popular Tik Tok challenge videos and videos of her performing stunning renditions of her favourite songs.